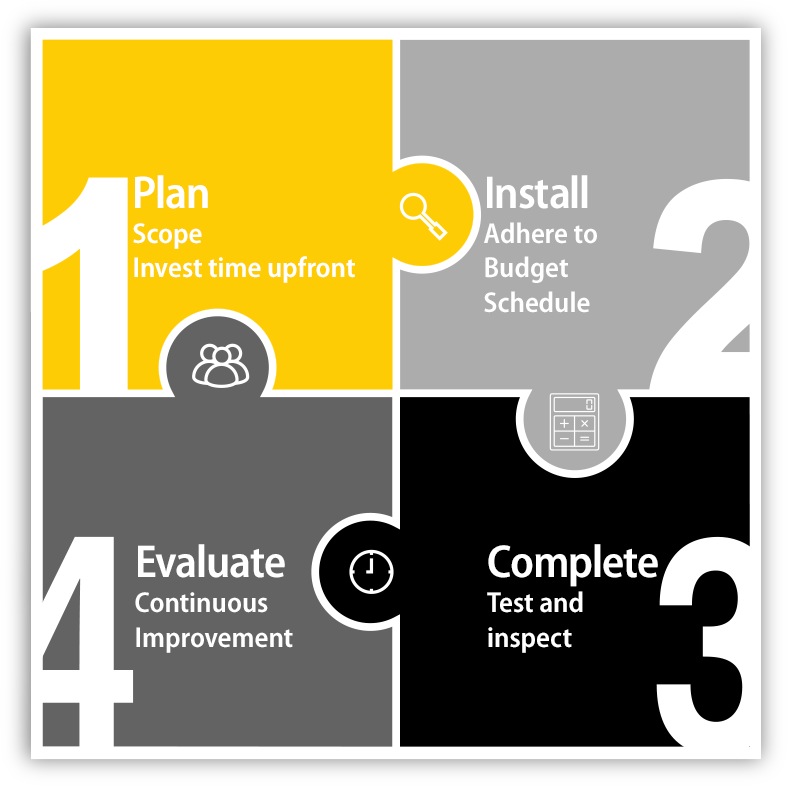 Plan
Contractor submits drawings for review and proposal development.
If the drawings do not include electrical, we recommend electrical devices and lighting.
Additional communications may take place to address project requirements, scope and expectations.
System Design
Proposal submitted to contractor.
Meeting to review the proposal, receiving full documentation and a clear understanding of how your system will work, costs involved.
Once proposal is accepted / awarded, timelines are determined
Typically, the contractor holds a trades meeting where all trades are advised about the schedule of project.
We then set up our schedule and work on gathering the necessary material needed for the project
Apply for necessary permits.
Product selection and procurement.
Install
Pre-insulation
Install electrical wiring.
Install pre-wiring for all systems.
Post-wall construction
Installation of electronic components takes place after walls are enclosed and painted.
Accommodate inspections and receive approvals.
Complete
Conduct system testing, provide documentation.
Receive project inspections and approvals.
Initiate warranty procedures.
Final site meeting, provide equipment tutorials, panel schedules, and final documentation.
Evaluate
Assess project success: analyse project plan against actual results (time, budget, issues management…)
Continuous improvement: apply key learnings to staff training and future projects.
Learn more about each of our specific processes below:
Restoration Process
Residential Process
Automation Process