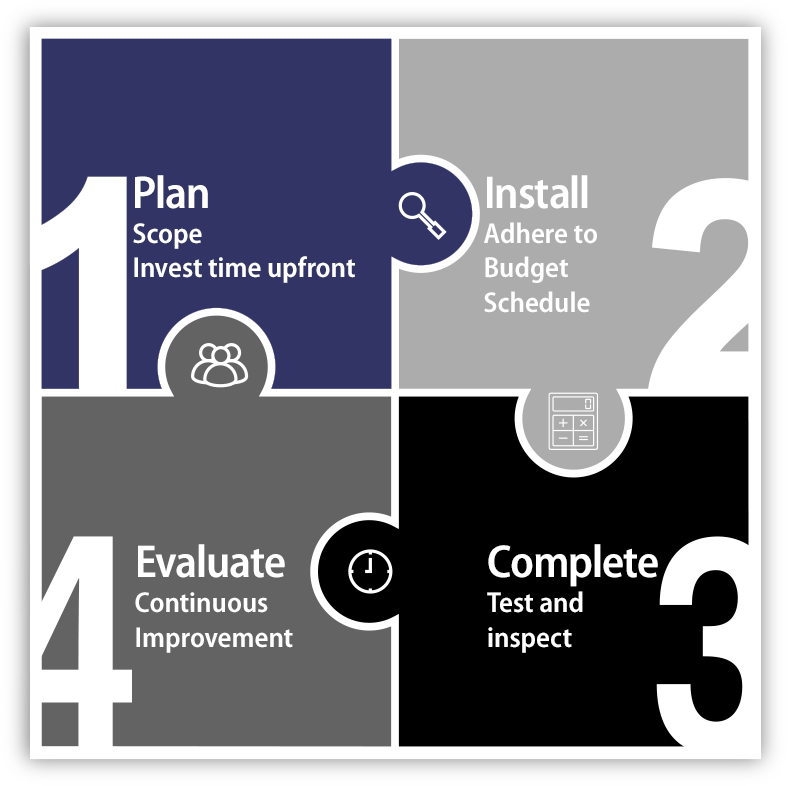 Plan
Contractor submits drawings for review and proposal development.
If the drawings do not include electrical, we recommend electrical devices and lighting.
Additional communications may take place to address project requirements, scope and expectations.
Initial meeting to discuss project requirements, scope and expectations.
System Design
Develop, submit and approve detailed proposal.
further communication back and forth regarding changes / additions / budget.
When proposal has been accepted, time lines are determined.
Apply for necessary permits.
Product selection and procurement.
We submit to the builder and/or homeowner a Rough-in Check List for specific equipment and appliance specs to double check that we have allowed for the correct items.
Install
Mark out the electrical, once framing is completed, and while other trades before us are working on their rough-ins.
Identify any changes required, update pricing.
Pre-insulation / Rough-in
Install electrical wiring.
Install pre-wiring for all systems.
Install temporary lighting and power for temporary heat if necessary.
Post-wall construction
Take-off of the devices that have been roughed in.
Any changes at this stage will require update pricing.
Installation of electronic components, devices and fixtures.
Complete
Conduct system testing.
Receive project inspections and approvals.
Initiate warranty procedures.
Final site meeting, provide equipment tutorials and panel schedules.
Evaluate
Assess project success: analyse project plan against actual results (time, budget, issues management…)
Continuous improvement: apply key learnings to staff training and future projects.
Learn more about each of our specific processes below:
Commercial Process
Automation Process
Restoration Process